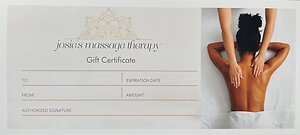 Mobile Massage therapist in Bishops Stortford, Stansted, Harlow, Sawbridgeworth and Dunmow
*** GIFT VOUCHERS NOW AVAILABLE *** please message me to purchase. I can deliver the vouchers in Bishops Stortford and surrounding areas!

On Tuesdays and Thursdays, I am based at the Saffron Walden Osteopathic Clinic. If you would like to book an appointment in clinic, please call 01799 524628
If you would like a treatment in the comfort of your own home, please call or message me on 07869 120 944 or email me at josiepearlson@gmail.com
Welcome to Josie's Massage Therapy. Josie is a qualified therapist offering relaxing, rejuvenating and pain relieving mobile massage treatments in the comfort of your own home, in Bishops Stortford and surrounding areas, including Stansted, Harlow, Sawbridgeworth and Dunmow.

She offers a wide choice of therapies including:
Holistic
Deep Tissue
Sports
Thai Foot Massage and
Myofascial Release Therapy

A few wonderful reasons to get a treatment today: To relax and manage stress; To speed up recovery from a soft tissue or sports injury; To help you recover from strenuous exercise; To improve your circulation; To manage back pain, neck pain and shoulder pain; To increase your joint mobility and flexibility; To manage chronic pain and discomfort; To improve your skin tone; To support your immune system by stimulating lymphatic drainage / flow; To reduce tension and soften tired, overused muscles.

Have a look at the individual Therapy Pages to get a more detailed understanding of what each of these can offer you or give me a call with any questions you may have.

Mobile Therapist Prices:

£60 per 60 minute session
£90 per 90 minute session

Locations covered: Bishops Stortford, Stansted, Harlow, Sawbridgeworth and Dunmow

Connect with me on Instagram and FaceBook for daily inspiration and updates.

About Me:

Josie has been a practising massage therapist since completing her Holistic Massage Diploma in 2011. She treats her clients by focusing not only on specific symptoms, but on the mind and body as a whole. Through attentive listening and carefully refined techniques, Josie addresses both physical and energetic issues.

She believes we all contain the innate ability to heal, and uses her skills to help those looking to find relief from chronic back pain and stress-related tension – or anyone simply seeking overall wellness of being. Her qualifications include Traditional Thai Yoga Massage, Thai Foot Massage, Sports and Deep Tissue Massage, Soft Tissue Release and Myofascial Release.

She is a member of the British Complementary Medicine Association (BCMA).